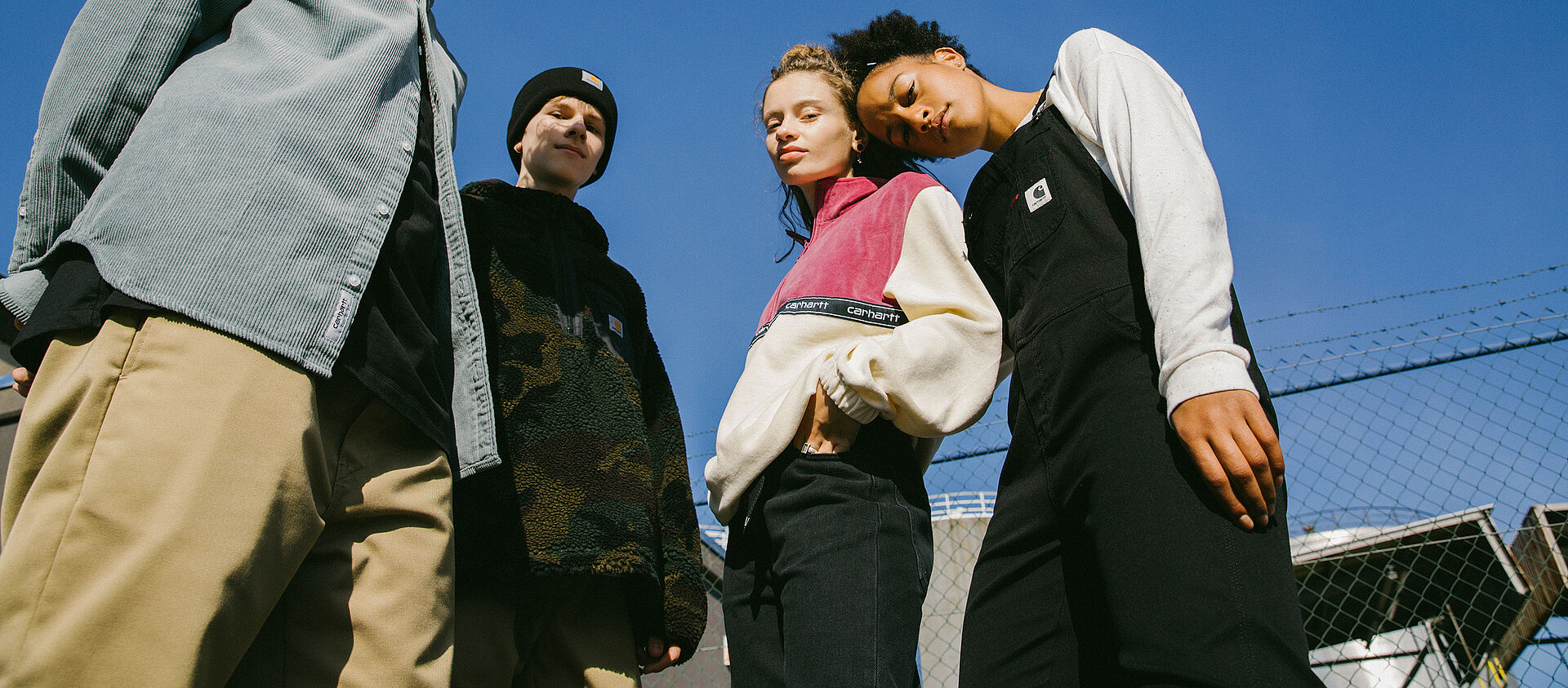 Created by T. Gentsch |
News
Carhartt WIP | Fall/Winter 2019 shot by Laura Kaczmarek for Titus
In 2019, skateboarding finds itself on a very broad and unique stage. In the past, many skaters dressed in such a similar style that even outsiders could easily recognize their look. Nowadays, this is far from the case. Skaters can be seen rocking baggy pants, tight pants, tank tops, polo shirts, and practically everything else is now "accepted" within the skate community. The same goes for female skateboarders. Girl skaters have also reached a skill level beyond anything in the past, where many male skaters could only dream of being as good as some of today's female rippers. Also, in the realm of female skateboarding, a new group of talents and perspectives are being unveiled. From clothing designers to photographers, women are bringing new ideas to these divisions of skateboarding. Bottrop's Laura Kaczmarek has been behind a camera for some time now and has become one of the most sought after boardsport/lifestyle photographers in her trade. In fact, the 29 year old recently shot the new Carhartt Fall/Winter collection photos for Titus. Afterwards, we sat down with her to ask a few questions. In the following article, you'll find out which skater she would love to shoot photos with, what are her go-to tricks when out skating herself, and how she feels about shooting photos in Chernobyl, among many other things!
Titus: Hi Laura! So tell us, what is day-to-day life like as a freelance photographer?
Laura: Well, that's not so easy to answer! As a freelancer, you just don't have the same work schedule every day. Often times, my workday will depend a lot on which projects I'm currently working on. For example, if I have to drive far away to do a shoot, it's quite possible that I have to wake up at 4 or 5 in the morning to head out. Then, I would probably spend the day shooting and the next 2 days or so working on the photos. Besides that, there's a lot of planning involved for a shoot.
When you say planning, you're referring to setting things up like the location, right?
Yes, exactly. The location, models, make-up artists, stylists, and any other assistants to make up a whole team.
How did you find the models for, say, the Carhartt shoot? Did you know them already?
Yes! Actually, I knew all of them from skating. I had quite a few others in mind as well, but the people from Carhartt preferred to have some younger kids. Personally, I really like that as it's something a bit different to work with younger kids and three of them I had previously taken photos with. For this project, the idea was literally just "go out skating, hang out, and take some photos along the way". It really doesn't get better than that!
Is it better, or more relaxed, to shoot photos with people you already know, or do you also like to work with new models?
I really like both situations, but of course it could be a bit faster or possibly more "authentic" when working with those you know already. However, especially if it's a shoot with someone I've always wanted to work with, that can be really cool too. Plus, you get to meet a new person in that case.
How do you handle shootings that take place in a city you've never been or where you don't know what the locations look like?
Yeah, many times there is a production agency behind it who will help with that kind of thing. They will usually have a certain idea for how it should look and have location scouts for the job who select someplace suitable. But, sometimes the customer will ask me to do that and skateboarding will usually come into play. In that case, I then connect with locals and ask around to see if they have an idea that might work. So far, I've always had very good experiences and tips for this which have led to good shoots.
The Carhartt shoot took place in the Ruhr Region of Germany, right? So you knew the area quite well?
Yes, that was one day in Dortmund and one day in Essen. I knew the locations well and made some suggestions for where to go, the photos show which places we've decided on! Unfortunately, it was a bit more complicated in Essen because I'd found some mega cool spots but there was construction work there when we arrived. Things like that can happen if you scout even just two weeks in advance. It also sometimes happens that the photos just come out quite different than you expected and with skating there can be issues with skate-stoppers on rails and such.
That's true, urban spaces can be difficult for photography. So, if you could choose and your customer would pay the price difference, would you rather shoot analog or digital photos?
Yes, definitely! And yeah, next to digital, I ALWAYS shoot analog photos, even if it's just for myself. I do that at my own expense simply because I personally like it better. I have had a few jobs that explicitly asked for analog photos. Unfortunately, these jobs are an exception, but that's just the way it is today. Analog photography is more real, more conscious, yet somehow also more simple. Analog photos look beautiful, but taking 1500 photos like on a digi photoshoot just isn't feasible with analog.
Are there any locations, worldwide, that you dream of taking photos at?
Yeah, definitely, I'd love to in the USA. I've still never visited the US and it's my dream to someday. I don't have any exact locations or cities in mind, but I'd love to do a "roadtrip" type of tour. Things like the lone motels along Route 66 look very cool. Ah, and I really like this location with an artistically-decorated mountain called Salvation Mountain, I have to go there someday. I think that place is something like the Duisburg-Nord landscape park for us where there's a million photos of it, but I'd still love to have my own!
I believe a photographer like yourself would feel right at home in a place like Detroit as well – with the empty and torn-down buildings… Another question: As a photographer, could you imagine shooting in Pripyat, the town next to Chernobyl?
Actually, I just thought about that the other day! You mean in the abandoned city with the Ferris wheel and all that? Yes, I would definitely do that! I wouldn't be afraid of radiation or anything, it's been over 33 years at this point. Besides, I live in Bottrop where there was an announcement recently that you shouldn't eat your garden vegetables because of chemicals leaked from a nearby factory…
My question wasn't actually aimed so much at the radiation exposure, but rather how you feel about the so-called "dark tourism" there, even if you wouldn't really be a tourist in this case.
Hmmm, yeah, I must confess that I can't really answer that so easily. I think it would depend a lot on the assignment I had there. I would definitely do a journalistic type of job. But, if I was shooting something like a commercial fashion shoot where the models present the latest styles among that backdrop, I think it would be pretty weird and I don't think I would do it.
Now on to skateboarding. What is the first trick you usually do when you first step on your board?
Haha, the first trick I would probably do when I get on my board would be a backside 180 or I would just do an ollie and manual or something. I guess that's the first thing I do when I go skate at my local park. There's an obstacle there that I usually ollie over and do a manual when I first get there. I've never really thought of that before, but I do have sort of a routine when I arrive there.
Do you still find time to skate often?
I totally skate as much as I can, but skateboarding does have to take a second place behind my work. The most difficult part is actually when I have an important project coming up. I get a bit nervous that I could get hurt and not be able to attend the shoot or appointment which could risk losing a client for me. Last week, I had knee surgery and I will be off my board for the next 1-2 months though. Luckily, it wasn't one of the ligaments or anything, but a piece of my kneecap was broken and it had to be removed. I can put a little weight on it already, but of course, what do I have scheduled next weekend? A shooting. So, last week I had an operation and this week I'm heading to a shoot, but these are the things I have to do!
You can totally do it. Okay, last question. Who would you love to do a shoot with? It can be anyone from the skate scene or not.
Definitely Blondie (McCoy), hahaha!